Compare your prediction skills with others

Feel the sports vibe without leaving your couch!

Wager and settle up with your friends in one place
Download Now!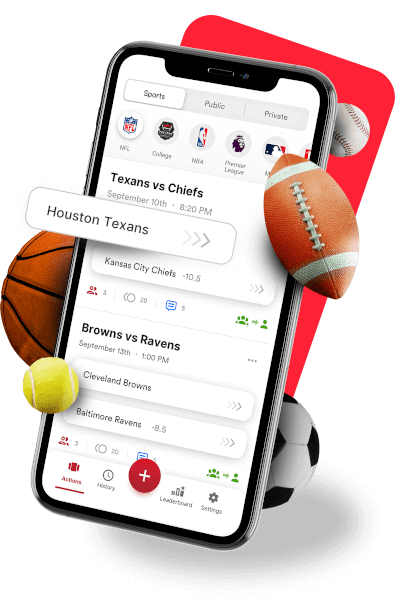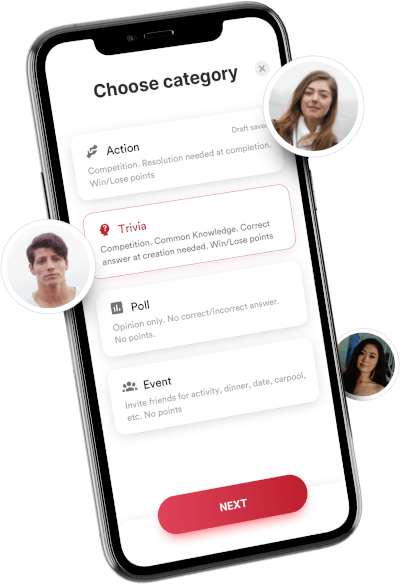 Groups
Multifunctional, with the possibility to make an action together, stats and history
Leaderboard
Dynamic, weekly and monthly ranking
Public & Private actions
Actions with all the world & Actions only with people you invite
History
Filterable list with all resolved actions you took part in
Frequently Asked Questions
What is UWantAction?
UWantAction is the home for all your "Action and Events"
It can be anything -- predicting results to sending invitations to events -- the possibilities are endless.
Action
"Who will the Seattle Seahawks draft in the first round – Offensive Line, Running Back, Defensive Line, Linebacker? "
"Will Jay Inslee get re-elected in November 2020 - Yes, Maybe, Absolutely Not?"
"What will Elon Musk tweet about next - I am selling all my Tesla cars, I am selling all my Tesla stock, I am selling my pets?"
After you vote and as everyone responds, you will immediately see the percentage each voting option received. Don't forget to check back and see how the percentages have changed.
When you win you receive the points listed for that Action. Then click on Leaderboard to see who you are doing.
You can select how many points each action is worth. Each user starts with 200 points when they create an account and get additional 110 points for each friend you invite who creates an account, see How do I invite my contacts to UWantAction?
Actions can be public, visible to all app users, or set to Private, and just the friends you invite.
Important - If you create an Action, you need to resolve it when completed.
Event
You want to invite your friends to play golf, tennis, bike ride, run, or coordinate carpool. Maybe it is be date night with your spouse, boyfriend, or girlfriend, could be a date night plus so much more. Just an easy way to create events, invite friends and see who is attending. Here are two examples.
"Boys let's meet up at Bandon Dunes on June 1, 9am to tee it, who is in?"
"You up for drinks and dinner tonight, 7pm, at Casa U Betcha?"
How do I create Action?
Click on the "+" at the bottom of the screen then selection "Action" or "Event" at top -

If "Action" fill in Title and Description, then your option and multiple options for opponents, set the amount of points, make public or private and invite friends or groups of friends.
If "Event" fill in Title, Date & Time, and Description and then invite friends or groups of friends.
Then watch the responses come in.
You can make your action "public" or "private". When it is "public" the action will be sent to all users of app.
If you want to make your action "private" so only the people you invite will see, then turn public option see example:
Public Action
Private Action
How do I send Action to my contacts on my phone?
Make sure you import your contacts into the app. You can do so right when you install the app, or later by going to Settings, Import Contact List.
How do I invite my contacts to UWantAction?
We want you to invite all your contacts to use UWantAction, for every invitation you send you are awarded 10 points, and if they create an account an additional 100 points. You can invite friends to use the app in two ways:
Include them in the "Invite Friends" within the Action or Event. If they already have downloaded the app you will see the logoto the right of their name.
Click on Settings, then Invite Friends and select all the friends you would like to invite and click on Send.
Can I create groups?
Yes you can. Go to Settings, then Groups, then Groups and "+ Create new group". Get creative and add an emoji to the group name.
How do I accept or reject an Action?
Accept - is super easy just swipe right or click on your selection and it will be highlighted in green.
To Reject click on the three dots in upper right
then select "Reject Action"
How do I resolve Action that I have created?
If you create an Action, you must provide resolution. To do so, click on the three dots in upper right,
then select Resolve action, and select the appropriate result.
Where do I find Actions I have participated in?
Once you have accepted an Action or Event it moves to your History. Within History you can then see the resolution of all your action.
How do I see who is participating in the Action and what they have chosen?
It is easy, click on the red people in lower left of Action
and you will see who has Accepted, Rejected and been Invited.
Is UWantAction available on iOS and Android?
At present, UWantAction is only available on iOS (Apple devices).
What would you like to be added to UWantAction app?
We are always open to great feedback and suggestions on how to improve UWantAction, so please send us your thoughts to info@uwantaction.com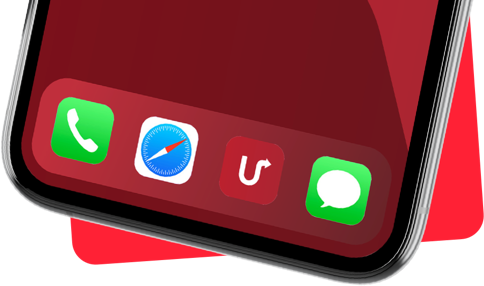 Download for free!
Download UWantAction right now and start creating actions with people all around the world!